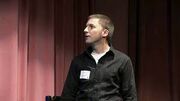 Joe Tringali is the Executive Director/Producer and Co-Founder of 5th Cell. He has travelled around several continents looking for work in the gaming industrial mostly managing business work of the companies. Tringali is also in charge of getting third party into publishing 5th Cell games.
Biography
Edit
Tringali started his career working in Funcom eventually joining Entranz Entertainment in Hong Kong. He eventually met Creative Director Jeremiah Slaczka in a games conference where they decided to start Square Enix developing Xbox games. After the company shut down in 2003 they met Brett Caird and Marius Fahlbusch who helped them start 5th Cell. Tringali and Caird worked together to start the company up while Jeremiah was with Marius getting the technology in. Tringali met THQ Mobile who agreed to publish their first three games for phones. Joe and Brett hired Edison Yan, David Franco and Brian Firfer to help them make their projects. In 2006 a year after 5th Cell's transition to Nintendo Ds Tringali started a partnership with Mercsom to publish D.N.A an Xbox game. THQ continued to work with Tringali with the Drawn to life games and Lock's Quest. The executive director however took a long time to find a Japanese publisher for other versions. It took Tringali a long time to find one that was interested in their games and found Augusta Entertainment who allowed them to use their factories. While 5th Cell were looking for a publisher to publish Scribblenauts Joe felt Warner Brothers was the best one to choose alongside Konami for the Japanese version so they could use some of their trademark characters. When 505 Games bought the Drawn to life series strangely nor Tringali or Slaczka spoke about it ever since.
Despite his jobs not much is known about Tringali
Some people theorize that Jowee from the Drawn to life series is named after him. This is unconfirmed though highly logically likely.